Dr Jonathan Cohen
MBBS, FRACGP, FACTM, MastFamMed
Jonathan Cohen MD is a parent and medical practitioner in private practice in Melbourne, Australia. He holds a Postgraduate Masters Degree in Family Medicine and is Adjunct Senior Research Fellow with the Centre for Developmental Disability Health Victoria, Monash University Department of General Practice and Medical Director of Genetic Clinics Australia. He is involved with numerous research projects, author of multiple articles for medical, allied health journals and the lay press and presents regularly throughout Australasia on Fragile X Syndrome and screening for carrier genetic conditions.
Jonathan's main medical interest areas include travel health, fragile X syndrome and preventive health.
Genetic Clinics Australia

Andrea Leibler
Associate Genetic Counsellor
BSc (Hons) PostGradDip(GC) MHGSA
Andrea is an associate genetic counsellor with experience in a range of prenatal genetic clinics throughout Victoria. She also has experience doing research in biochemistry laboratories in both Melbourne and Israel.
Andrea has worked at Villa Maria helping children with disabilities and is in tune to the sensitivities of families with chronic illness or special needs. As a result, she has in depth understanding of both the science of genetics and the psychosocial implications to individuals and families.
She is a friendly, compassionate and warm professional . Andrea sees genetic testing becoming a more integral part of medicine, and has advocated in favour of carrier screening being universally offered and discussed with all individuals or couples pre-pregnancy.
Andrea also runs a vibrant and busy household with her 4 young children including identical twins! She loves spending quality time with family and friends, cooking, travelling and exploring new places.
Genetic Clinics Australia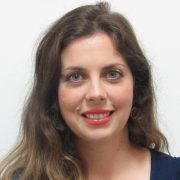 Linda Cicciarelli
Certified Genetic Counsellor
BSc (Biomedical Science), GradDip (Genetic Counselling), FHGSA
Linda is a certified genetic counsellor with extensive experience in hereditary cancer genetics working for over 13 years in genetic clinics throughout Victoria. As a cancer genetic counsellor , she speaks with both individuals who have developed cancer, and individuals with a family history of cancer about hereditary cancer conditions and options for genetic testing.
She is a member on the EviQ reference committee for cancer genetics contributing to the development of national guidelines for genetic testing and risk management. Her clinical focus is on developing models of care for the delivery of genetic assessment and genetic testing to all individuals seeking information about their hereditary cancer risk.
Genetic Clinics Australia
Our staff are sensitive and approachable, working in a highly professional and confidential manner, via

telephone and face-to-face counselling consultations.